SHANGHAI, Dec.31 (SMM) – This is a summary of China's weekly metal inventory as of Dec.31.
Social aluminum inventories fell 65,000 tonnes this week
SMM data showed that China's social aluminum stocks in eight consumption zones fell from 65,000mt during the week to 799,000mt as of December 30, mainly due to Wuxi, Nanhai and Gongyi. Social stocks fell 40,000 tonnes from Monday, December 27, largely because arrivals in Wuxi declined significantly.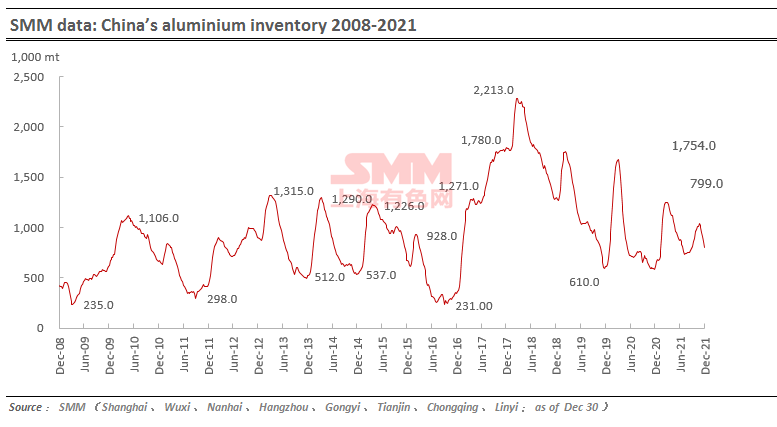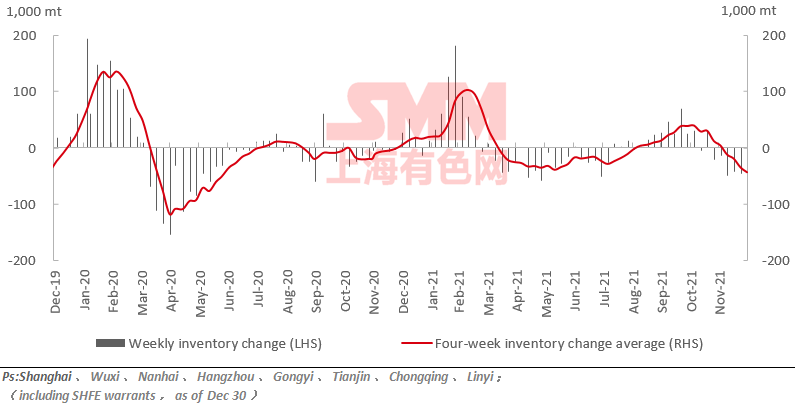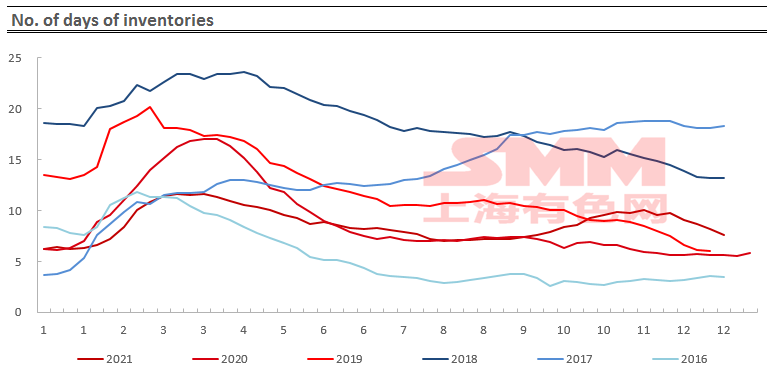 Stocks of aluminum billets increase by 5,700 mt per week
Inventories of aluminum billets in five major consumer areas increased by 5,700 mt to 80,300 mt on December 30 compared to a week ago, an increase of 7.64%.
Inventories in all four major markets rose on the week, with the exception of Nanchang. Among them, Huzhou's stock was up 3,000mt or 27.27% from last Thursday, and Foshan's added 2,900mt or 8.31%, the two contributing most of the weekly gains. The aluminum billet market was sluggish at the end of the year with most companies busy managing their cash flow and reducing orders taken resulting in a quiet market.
Looking ahead to next week, downstream market demand was sluggish, associated with the upcoming New Years holiday. The weekly aluminum billet inventory is expected to continue to increase.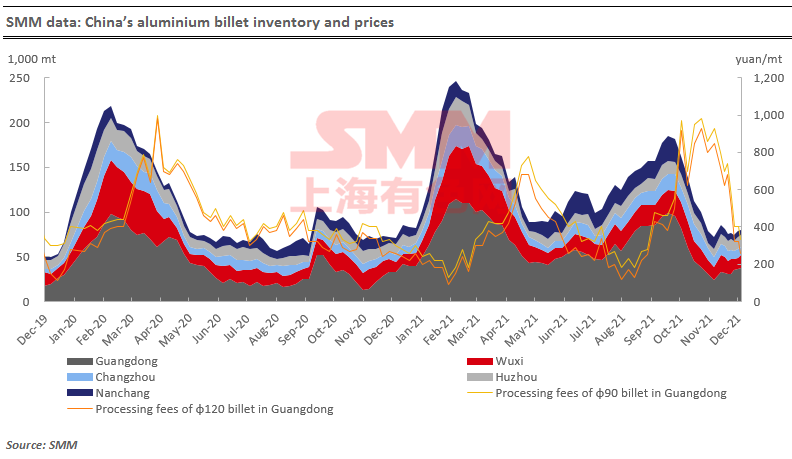 Zinc stocks on social media drop 4,100 tonnes per week
SHANGHAI, Dec. 31 (SMM) —Total zinc stocks in seven Chinese markets stood at 120,100 mt as of December 31, down 6,600 mt from December 27 and 4,100 mt from December 24.
Shanghai saw its stocks decline as imported zinc inflows dwindled, some domestic zinc brands were still in transit, and merchandise arrivals to the market declined sharply, and downstream producers restocked properly before the holidays. Inventories in Guangdong increased slightly amid moderate arrivals of goods to the market and lower demand from downstream producers. Inventories in Tianjin continued to rise as commodity arrivals stabilized, downstream demand was sluggish, and traders demanded to deliver futures. Inventories in Shanghai, Guangdong and Tianjin fell 4,500 mt, and inventories in seven Chinese markets fell by 4,100 mt.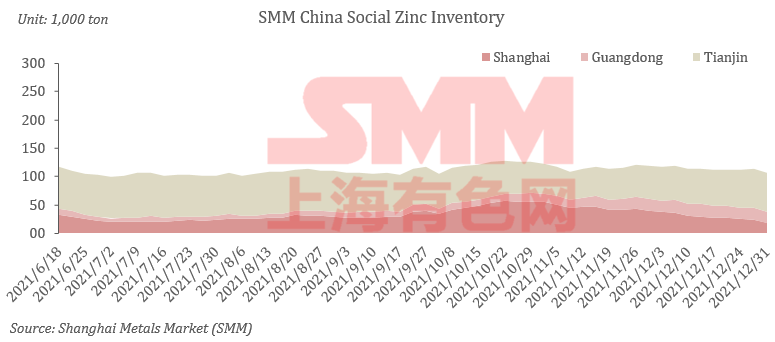 Social inventory of silicon metals increased by 1,000 tons per week
The social stock of silicon metal in Huangpu Port, Kunming City and Tianjin Port increased by 1,000 mt from the previous week to reach 87,000 mt as of Friday, December 31st.
Inventories in northern China increased, while inventories in southern China declined.
Arrivals at Tianjin Port have increased significantly as all people from other cities will need to obtain COVID-19 negative certification within 48 hours to enter Tianjin from January 1 to March 15, 2022. At the same time, shipments from Tianjin Port remained slow. . The inventory at Tianjin Port has increased.
Shipments to southern China were high this week, and arrivals at the ports of Kunming and Huangpu declined. As a result, stocks in southern China declined.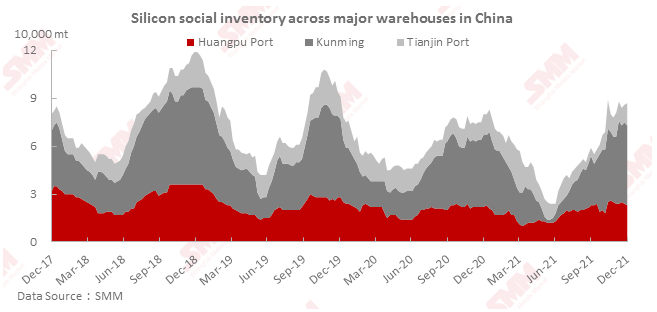 The social inventory of lead ingots fell by 13,400 t during the week
The social inventory of lead ingots in Shanghai, Guangdong, Zhejiang, Jiangsu and Tianjin decreased by 13,400 mt from December 24 and from 4,900 mt on December 27 to 95,300 mt on December 31.
The supply of secondary lead has declined in Jiangxi, Anhui and other major consumer markets due to environmental protection inspections and maintenance. However, lead prices fell during the week and shipments from primary lead smelters were modest, mostly shipping goods on long-term orders. Downstream users replenish raw materials on demand as New Years approaches, so they have increased purchases from traders. Thus, the social inventory continued to decline.
Foundries will gradually resume supply after the New Years holiday next week, and downstream users will continue to restock for the CNY. The social inventory of lead ingots is expected to continue to decline.

Copper inventory in major Chinese markets added 900 t over weekend
As of Friday, December 31, copper stocks in the main Chinese markets increased by 900 mt compared to Monday, December 27 to 86,900 mt. The increase in inventories this week was mainly seen in Shanghai and Jiangsu. Inventories in Guangdong decreased and there was little change in inventory in other regions.
More specifically, the Shanghai stock increased from 2,800 mt to 65,100 mt, that of Jiangsu from 500 mt to 10,000 mt and that of Guangdong from 2,400 mt to 6,600 mt. Consumption in various regions was weak this week. Shipments arriving in eastern China have increased due to the influx of imported copper and cargoes from northern China. On the other hand, the reduced efficiency of transport in Guangxi due to the COVID-19 pandemic and maintenance in the foundries has reduced the arrivals of cargoes in Guangdong.
Consumption is expected to be low next week. The supply will grow. Inventories are expected to increase further.

Copper stocks in the bonded zone in China increased by 15,600 mt per week
Copper inventories in domestic bonded areas increased from 15,600 mt on December 24 to 187,300 mt on Friday December 31, the first increase after 11 consecutive weeks of decline, according to the most recent SMM survey.
The inventory in the Shanghai bonded area increased from 7,700 t to 164,500 t, and the inventory in the Guangdong bonded area increased from 7,900 t to 22,800 t.
Trade on the import market was moderate at the end of the year. Serious import losses also depressed import demand, reducing inventory shipments from bonded areas. The concentrated inbound shipments over the past two weeks have gone to bonded warehouses. As a result, the inventory in China's bonded areas stopped falling and rebounded.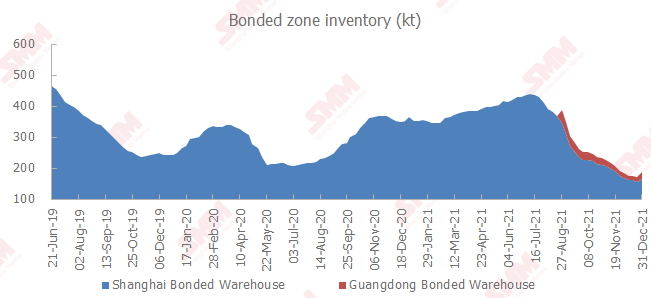 Inventories of nickel ore in Chinese ports fell by 65,000 wmt
Inventories of nickel ore in Chinese ports fell 65,000 mt from the previous week to 8.59 million mt as of December 31. The total Ni content was 67,500 mt. Total inventory at seven major ports was around 3.89 million wmt, down 65,000 wmt from the previous week.
Port inventory continued its downward trend, but the decline was relatively slow. Both arrivals and loading slowed down. Port unloading pressure has weakened compared to the previous period. Some NPI factories may have plans to begin maintenance in January. Port inventory may rebound slightly.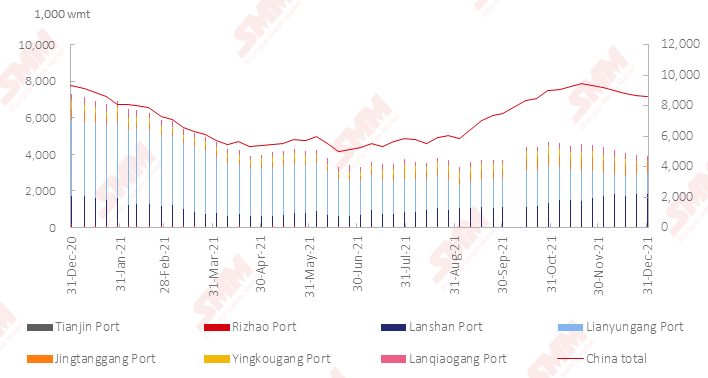 Spot Nickel Imports Generated Small Profits
The SHFE / LME nickel price ratio has peaked this week, hitting 7.49 before declining, then leveling off at 7.44. The import registered a small profit of 250 yuan / ton.
As long-term pure nickel contracts for 2021 were completed, most traders were busy with annual settlements and went out of business. Therefore, the import volume of pure nickel from bonded area stocks was low even when the import window opened. There have been 2,000 mt of nickel plated shipments this week. These shipments are expected to be offered for sale in the domestic market next week. But the SHFE / LME nickel price ratio is expected to remain profitable for import due to low domestic stocks.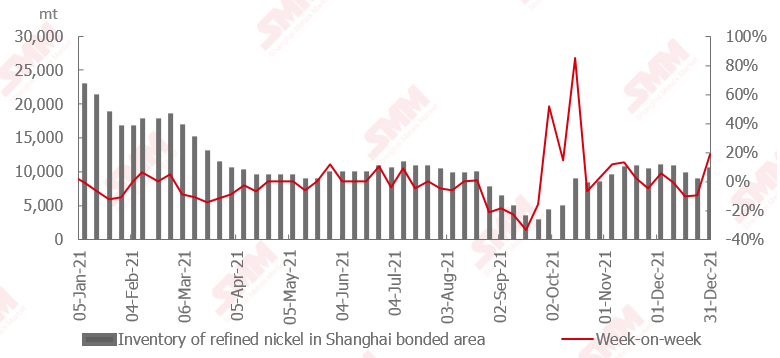 Source link